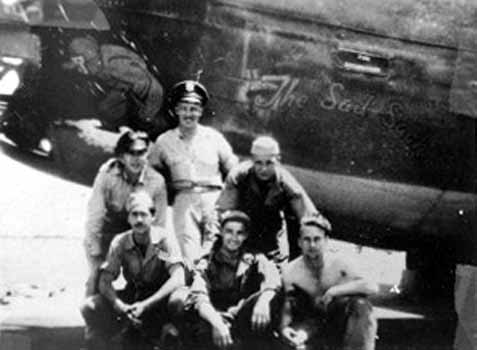 | | | | | | | | | | | | | | | | | |
| --- | --- | --- | --- | --- | --- | --- | --- | --- | --- | --- | --- | --- | --- | --- | --- | --- |
| NAME | TP | - | M# | SER | - | BLK | - | MF | SERIAL # | AF | BG | BS | SC | RCL/# | V#-P | PHOTO CREDITS |
| SAD SACK, The | B | - | 24 | D | - | 45 | - | CO | 42-40269 | ~ | ~ | ~ | ~ | ~ | 01-1 | N/A |
Character from "Sad Sack Comics" (Creator - George Baker)
Contributor - Wally Forman
The SAD SACK (42-40269) has been confused with Pilot Hank Lasco's Ploesti aircraft, 41-24153 [No Name]. Many sources have listed 41-24153 as SAD SACK II, but my friend, Hank Lasco, swears this aircraft never received an official name and artwork.
Info Contributor - Chris Gregg VIA Henry "Hank" A Lasco (44th BG Pilot)
This is The SAD SACK we had in Africa! Not 41-24153 [No Name] which we flew to Ploesti. Photo was taken in South America in 1943.
Standing (L-R)
Lt. Harry Stenborn - Navigator
Lt. Hank Lasco - Pilot
Sgt. ? - Tail Gunner
Kneeling (L-R)
Sgt. G. Mcord - Waist Gunner
Sgt. A. Shaffer - Waist Gunner
?
Info Contributor - Tom Brittan
Being a replacement aircraft, 42-40269 would not have been assigned to a Bomb Group before arrival in the UK. At the time the Lasco crew flew it overseas in Apr 43, there were only two Bomb Groups in the UK flying the B-24, the 44th and the 93rd. Consequently, there was a 50/50 chance of it going to one of these Bomb Groups if it had reached the UK. However, when the defective right strut of the main landing gear collapsed on landing at Marrakech, French Morocco, on 21 Apr 43, damaging the right wing, propellers and under fuselage, the aircraft was under ATC Orders.
Send e-mail or pics to B-24 Best Web Master along with your questions or comments about this web site.
Copyright © 1997 B-24 Best Web. Published on Veterans Day 11/11/97. Last modified: 27-Mar-2021