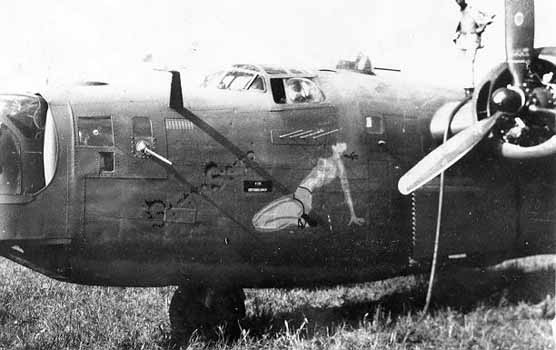 NAME
TP
-
M#
SER
-
BLK
-
MF

SERIAL #

AF

BG

BS

SC
RCL/#
V#-P

PHOTO CREDITS

SATANS SISTER

B

-

24

D1

-

85

-

CO
42-40680
5
43
403
~
~
02-

1

JACK HEYN
Contributor - Jack Heyn
I was a Photographer/Lab Tech with Hq. Sq. 3rd BG/5th AF from Oct 41 to Jan 45. The 3rd flew A-24s, A-20s, B-25s while I was with them. We shared bases in the S. W. Pacific with the 90th BG. in the fall of '43, at Doba Dura. Photo was taken at our base at Doba Dura in the Buna Gona area on the North coast of New Guinea in the summer of '43.
Info Contributor - Robert Livingstone
Initially 22nd BG/2nd BS transferred to 43rd BG/403rd BS. Salvaged 13 Dec 44.
Send e-mail or pics to B-24 Best Web Master along with your questions or comments about this web site.
Copyright © 1997 B-24 Best Web. Published on Veterans Day 11/11/97. Last modified: December 15, 2009