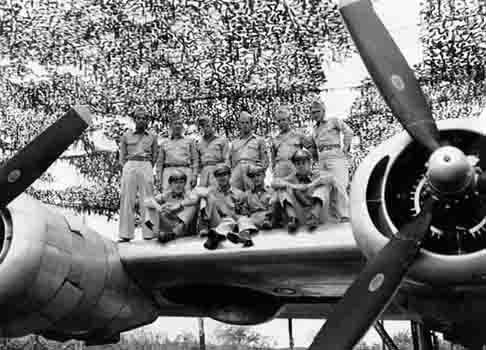 | | | | | | | | | | | | | | | | | |
| --- | --- | --- | --- | --- | --- | --- | --- | --- | --- | --- | --- | --- | --- | --- | --- | --- |
| NAME | TP | - | M# | SER | - | BLK | - | MF | SERIAL # | AF | BG | BS | SC | RCL/# | V#-P | PHOTO CREDITS |
| SHORT RUN! | B | - | 24 | J | - | 175 | - | CO | 44-40686 | 7 | 494 | 867 | ~ | ~ | 00-4 | HAROLD R. ELLISON |
Contributor - Libby Dwyer
My Father, Lt. Harold Ellison (Navigator - sitting far left), gave us this photo with the names listed on the back. After this crew completed all of their missions, S/Sgt. Tenny (Radio Operator) had to go out on one more to make up for one he missed (because he was sick), and was killed on that final mission. My dad wrote to his family for several years after the war. I have fond memories from my childhood of "Captain Jim" coming up to Michigan with his wife, Casey, to visit.
Standing (L-R)
Gallardo, Margarito (Sgt.) - Waist Gunner
Mitchell, Rothwell (S/Sgt.) - Top Engineer
Fowler, Waren H. (Sgt.) - Waist Gunner
Tenny, James F. (S/Sgt.) - Radio Operator
Jacques, Raymond E. (Sgt.) - Tail Gunner
Morton, James H. (Sgt.) - ?
Sitting (L-R)
Ellison, H.R. (2nd Lt.) - Navigator
Grant, James R. (Capt.) - Pilot
Jones, Raymond C. (2nd Lt.) - Co-Pilot
Snyder, Ben M. (1st Lt.) - ?



Send e-mail or pics to B-24 Best Web Master along with your questions or comments about this web site.
Copyright © 1997 B-24 Best Web. Published on Veterans Day 11/11/97. Last modified: May 19, 2008