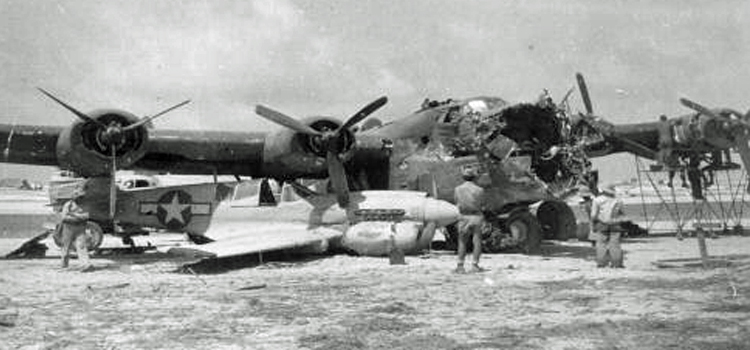 | | | | | | | | | | | | | | | | | |
| --- | --- | --- | --- | --- | --- | --- | --- | --- | --- | --- | --- | --- | --- | --- | --- | --- |
| NAME | TP | - | M# | SER | - | BLK | - | MF | SERIAL # | AF | BG | BS | SC | RCL/# | V#-P | PHOTO CREDITS |
| SHORT SNORTER | B | - | 24 | J | - | 1 | - | CO | 42-73000 | 7 | 11 | 98 | ~ | ~ | 02-1 | N/A |
Starboard (Right) Side - Collision with P-40 HERKY on Baker Island 16 Nov 43
Contributor - Pete Johnston
Info Contributor - Daniel L. Stockton
Allied soldiers would have currency signed by comrades, much like an autograph book. As one note was filled, another would be connected to the first (usually by tape), with more added as needed. A 10 foot long "train" of notes not being uncommon. This tradition began during World War I, heightened during World War II, and was carried on into the Korean War.
A "snorter" is also a drink of liquor, usually swallowed in one quick gulp. A "short snorter" is a drink of liquor that's not quite full. This term was adopted by the soldiers as the nickname for these notes.
Send e-mail or pics to B-24 Best Web Master along with your questions or comments about this web site.
Copyright © 1997 B-24 Best Web. Published on Veterans Day 11/11/97. Last modified: 25-Apr-2021