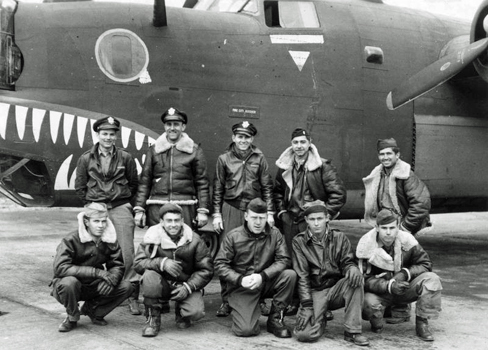 | | | | | | | | | | | | | | | | | |
| --- | --- | --- | --- | --- | --- | --- | --- | --- | --- | --- | --- | --- | --- | --- | --- | --- |
| NAME | TP | - | M# | SER | - | BLK | - | MF | SERIAL # | AF | BG | BS | SC | RCL/# | V#-P | PHOTO CREDITS |
| SNAFU SNARK, The | B | - | 24 | H | - | 15 | - | CF | 41-29387 | 8 | 466 | 785 | 2U | B+ | 00-2 | N/A |
Port (Left) Side - "Situation Normal All (Fouled) Up" - Renamed to The SNARK
Lost 8 Aug 44, FRA - MACR 7381 Pg1 / Pg2 - Pilot Kinsey
Info Contributor - Dave Mercado
Standing (L-R)
Malcolm "Moe" O. Dike - Pilot
Claude "Mac" V. Meconis - Co-Pilot
William L. Brooks - Navigator
Harold K. Miller - Bombardier
J.R. Thompson - Engineer
Kneeling (L-R)
Joe J. Rooney - Radio Operator
Vito T. Calderalo - Tail Gunner
G. A. Bertie - R/Waist Gunner
Dennis L. Beavers - Ball Turret Gunner
J. W. Smith - L/Waist Gunner
Info Contributor - Tom Brittan
An original 466th BG ship, flew combat missions from 24 Mar 44 through 8 Aug 44 when, on return from a mission to Clastres, France, it crash-landed at Manston emergency airfield, Kent. Fuel cells were changed and extensive battle damage was repaired, repairs being completed on 17 Sep 44. Flew no more combat missions, was converted to a CB-24H and is recorded as salvaged by BAD 3, Langford Lodge, Northern Ireland, 11 Nov 44.
Info Contributor - William L. Brooks II
William L. Brooks (Navigator) was my Father.
Send e-mail or pics to B-24 Best Web Master along with your questions or comments about this web site.
Copyright © 1997 B-24 Best Web. Published on Veterans Day 11/11/97. Last modified: 14-May-2021