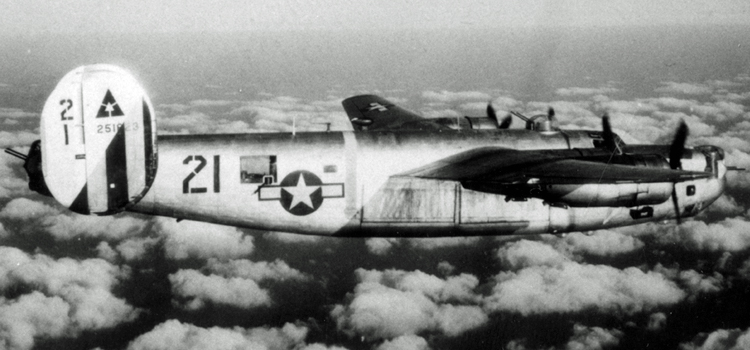 | | | | | | | | | | | | | | | | | |
| --- | --- | --- | --- | --- | --- | --- | --- | --- | --- | --- | --- | --- | --- | --- | --- | --- |
| NAME | TP | - | M# | SER | - | BLK | - | MF | SERIAL # | AF | BG | BS | SC | RCL/# | V#-P | PHOTO CREDITS |
| STRANGE CARGO? | B | - | 24 | J | - | 10 | - | FO | 42-51623 | 15 | 450 | 721 | ~ | 21 | 01-4 | ROGER FREEMAN |
"9 Men & a Boy" - Mid Aug '44 Tail Marking - Interned in Dübendorf, SWI 8 Apr 45
Info Contributor - Daniel L. Stockton


Two damaged B-24 Liberators are being intercepted by Swiss Messerschmitt Bf 109 E-3's, after seeking refuge over their airspace. The B-24's are "DOPEY/KATHYRN ANNE" (42-78600) of the 98th BG and "STRANGE CARGO?" (42-51623) of the 450th BG.
Info Contributor - Michael J. Kuchinsky
My Father, Joe Kuchinsky, served in the 451st BG / 725th BS in Castellucia, Italy. I was extremely proud to see the photo of STRANGE CARGO?. My dad painted the nose art just prior to them flying it to Italy via Brazil, Dakar and other points to Italy. I showed my dad the picture last night and I could tell it brought back lots of memories both good and bad. The picture you have is after it was transferred to the 450th BG / 721st BS. The 1st Nose Art had the women sitting on a pirates chest with bombs sticking out of the chest, not with the TNT box. Why it was changed my dad isn't sure. It was called "9 Men & a Boy" because one of the original crew that flew it over from the states was Harold Meyers, who was just 18 years of age, so the crew called him the boy. At this time my dad also had just turned 18. Harold Meyers died just after returning to the states.
Send e-mail or pics to B-24 Best Web Master along with your questions or comments about this web site.
Copyright © 1997 B-24 Best Web. Published on Veterans Day 11/11/97. Last modified: 27-Mar-2021