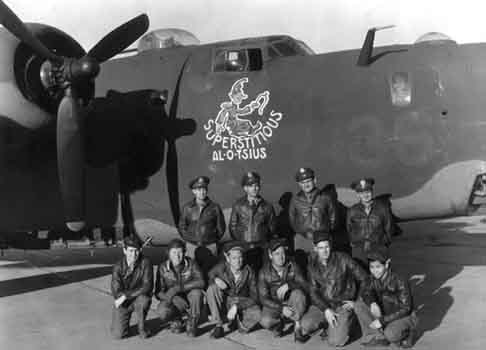 | | | | | | | | | | | | | | | | | |
| --- | --- | --- | --- | --- | --- | --- | --- | --- | --- | --- | --- | --- | --- | --- | --- | --- |
| NAME | TP | - | M# | SER | - | BLK | - | MF | SERIAL # | AF | BG | BS | SC | RCL/# | V#-P | PHOTO CREDITS |
| SUPERSTITIOUS AL-O-YSIUS | B | - | 24 | H | - | 10 | - | FO | 42-52136 | 15 | 449 | 717 | ~ | 45 | 01-2 | C. SIMEONE |
Starboard (Right) Side - Lost 2 Apr 44, AUT - MACR 3995 - Pilot John H. Starr
Contributor - Paul Simeone (Nephew of C. Simeone - Tail Gunner)
On her 26th mission to Steyr, Austria (2 Apr 44, to bomb a parts making plant for Messerschmitt aircraft), SUPERSTITIOUS AL-O-YSIUS was lost at 12:30 P.M., on the return from the target. Another plane, MISS BEHAVIN (42-52086), was hit by a rocket from a fighter, lost control, and hit SUPERSTITIOUS AL-O-YSIUS. A third plane, PEERLESS CLIPPER (41-29216), was hit by debris from both planes. All three went down and all crews were KIA except one member, Mark Schneider (Ball Turret Gunner on MISS BEHAVIN), who survived the fall from 21,000 feet!
Lt. Starr - Pilot
Robert Samson - Co-Pilot
G. Radcliffe - Engineer
E. Byer - Radio Operator
Paul Lhevinne - Bombardier
Joe Smith - Navigator
C. Simeone - Tail Gunner
W. Tom - Ball Turret Gunner
T. Mikolojizzo - Waist Gunner
Porter Singleton - Waist Gunner
Info Contributor - Mark Coffee
Note: Joe Smith (Navigator) was replaced by George Parks on 2 Apr 44 mission.
Send e-mail or pics to B-24 Best Web Master along with your questions or comments about this web site.
Copyright © 1997 B-24 Best Web. Published on Veterans Day 11/11/97. Last modified: 27-Mar-2021