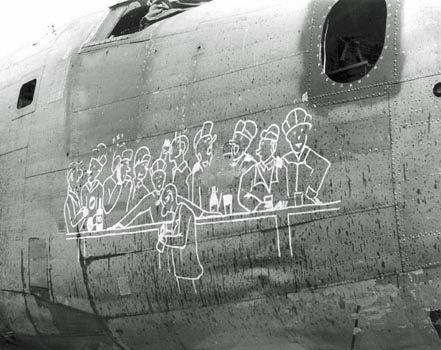 | | | | | | | | | | | | | | | | | |
| --- | --- | --- | --- | --- | --- | --- | --- | --- | --- | --- | --- | --- | --- | --- | --- | --- |
| NAME | TP | - | M# | SER | - | BLK | - | MF | SERIAL # | AF | BG | BS | SC | RCL/# | V#-P | PHOTO CREDITS |
| TABLE FOR TEN | B | - | 24 | J | - | 140 | - | CO | 42-110185 | 8 | 44 | 66 | QK | C+ | 00-4 | N/A |
Starboard (Right) Side - AKA "WILD BILL" / "HOLIDAY INN" - 8/491/855 (V2 N+ | Y+) | 8/44/66 (QK C+ | S+)
Info Contributor - Stephen Adams
No trace with the 44th BG after 1 Mar 45.
Info Contributor - Michael Osbourne
Original 491st BG aircraft. Lt. Rock was the Pilot, and my Father, Richard M. Osbourne, was the Ball Turret Gunner. The ship was AKA "HOLIDAY INN", a name taken from the movie and starring among others, Bing Crosby. Dr. Rock (before his death) told me that the crew were always ready to party, so the crew had the mural sketched out of an aircrew bellying up to a bar. For some reason they never did get it properly painted, but it did have the name "HOLIDAY INN" on the port side near the cockpit. Lt. Rock's crew was shot down near LeHavre 13 Aug 44 in a different aircraft.
Send e-mail or pics to B-24 Best Web Master along with your questions or comments about this web site.
Copyright © 1997 B-24 Best Web. Published on Veterans Day 11/11/97. Last modified: 21-Jul-2023