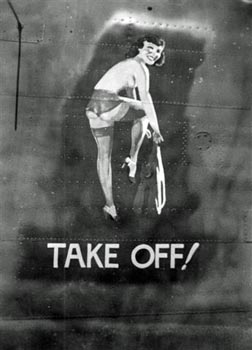 NAME
TP
-
M#
SER
-
BLK
-
MF

SERIAL #

AF

BG

BS

SC
RCL/#
V#-P

PHOTO CREDITS

TAKE OFF!

B

-

24

D1

-

20

-

CO

41-24149

7

11

42

~

~
00-

4

N/A
Starboard (Right) Side - Has Been Confused with SUPER MAN (41-23938)
Nose Art Inspiration - GIL ELVGREN

"FRENCH DRESSING"
Contributor - Jim Goodall
Info Contributor - Robert Livingstone
On 20 April 1943, this was one of twenty two B-24s that took off from Funafuti Airfield at 5:00 a.m. on a six hour flight to photograph and bomb the phosphate works on Nauru. Aboard were Pilot Russel Allen "Phil" Philips, Co-Pilot 1st Lt. Charleton "Hugh" Cuppernell, Bombardier 1st Lt. Louis S. Zamperini, and Navigator 1st Lt. Robert H. Mitchell. Over the target, the formation experienced Japanese anti-aircraft fire and were intercepted by fighters. This B-24 was damaged by both anti-aircraft fire and enemy fighters. Aboard, each of the enlisted gunners were wounded. Returning from the mission, Zamperini made emergency splice repairs to the rudder control cables by splicing bomb arming wires around the damaged cables. After landing safely at Funafuti Airfield, one of the wounded gunners succumbed to his wounds later that night. The B-24 sustained nearly 600 holes from battle damage, including five 20mm cannon hits and over 150 7.7mm machine gun hits. Anti-aircraft fire tore off the right vertical stabilizer and inflicted other damage.
Send e-mail or pics to B-24 Best Web Master along with your questions or comments about this web site.
Copyright © 1997 B-24 Best Web. Published on Veterans Day 11/11/97. Last modified: 17-May-2022