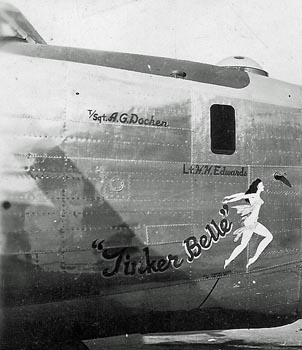 NAME
TP
-
M#
SER
-
BLK
-
MF

SERIAL #

AF

BG

BS

SC
RCL/#
V#-P

PHOTO CREDITS

TINKER BELLE

B

-

24

J

-

150

-

CO
44-40158

8

44
506
GJ
-Q
00-

3

N/A
Starboard (Right) Side - Transferred from 492/857 (9H M) to 44/506 (GJ -Q)
Lost 5 Apr 45, GER - MACR 14110 - Pilot George F. Brown, Jr.
Contributor - Brendan Wood
Info Contributor - Stephen Adams
Transferred to the 44th BG 13 Aug 44. Lost 5 Apr 45, being shot down by flak, and crashed near Wipperfurth (Plauen). 2nd Lt. George F. Brown Jr. (Pilot), along with S/Sgt. Travis E. Nash (Radio Operator), were KIA. The rest of crew returned safely. With one engine feathered, the aircraft had dropped 3 miles behind the main formation under control. S/Sgt. Burkhart (Engineer), stated "#1 engine was feathered, #2 was on fire, #s3 and 4 were smoking, and Lt. Brown (Pilot) was wounded." Burkhart (Engineer) saw Brown (Pilot) bail out with the rest of the crew, but was never seen again. It was eventually determined that Brown (Pilot) was KIA and it is thought, was killed by persons unknown.
Send e-mail or pics to B-24 Best Web Master along with your questions or comments about this web site.
Copyright © 1997 B-24 Best Web. Published on Veterans Day 11/11/97. Last modified: 27-Mar-2021