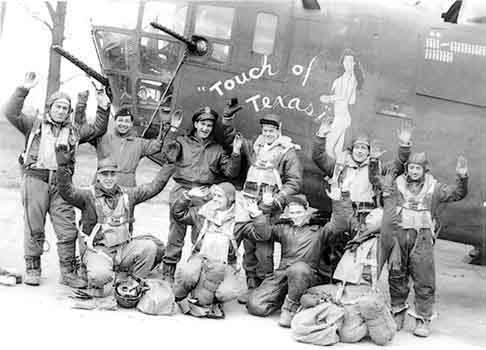 | | | | | | | | | | | | | | | | | |
| --- | --- | --- | --- | --- | --- | --- | --- | --- | --- | --- | --- | --- | --- | --- | --- | --- |
| NAME | TP | - | M# | SER | - | BLK | - | MF | SERIAL # | AF | BG | BS | SC | RCL/# | V#-P | PHOTO CREDITS |
| TOUCH OF TEXAS! | B | - | 24 | D | - | 95 | - | CO | 42-40751 | 8 | 389 | 566 | ~ | D- | 00-3 | ELDON N. COLBY |
Survived Operation TIDAL WAVE, 1 Aug 43, Ploesti Romania - (Horizontal Mission Marker)
Contributor - Roy Potter
The crew after they completed 25 missions - 29 Jan 44. Pilot (1st Lt. Denton, who received the DFC, for the Ploesti raid) is standing 4th from the left, directly under the word Texas.
Flown by my Great Uncle, 1st. Lt. Eldon Neil Colby, on his first mission as a Pilot, after being the Co-Pilot on his original aircraft The OKLAHOMAN (42-40738). He was flying alongside this bird in TOUCH OF TEXAS! (5 Dec 43) when The OKLAHOMAN was hit by a direct burst of flak, carrying the Mason Crew, who normally flew in FIGHTIN' SAM (42-40506). The aircraft was blown apart, with Mason being the sole survivor (POW).
Send e-mail or pics to B-24 Best Web Master along with your questions or comments about this web site.
Copyright © 1997 B-24 Best Web. Published on Veterans Day 11/11/97. Last modified: 31-Aug-2021