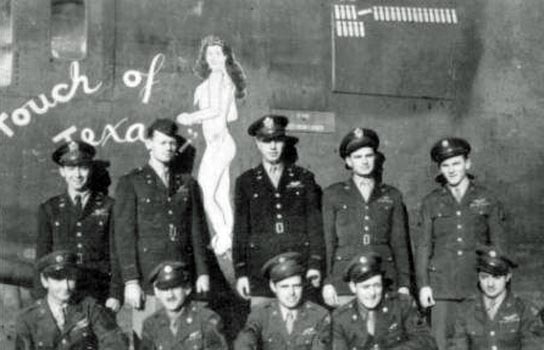 NAME
TP
-
M#
SER
-
BLK
-
MF

SERIAL #

AF

BG

BS

SC
RCL/#
V#-P

PHOTO CREDITS

TOUCH OF TEXAS!

B

-

24

D

-

95

-

CO

42-40751

8

389

566

~

D-

00-

4

N/A
Survived Operation TIDAL WAVE, 1 Aug 43, Ploesti Romania - (Horizontal Mission Marker)
Contributor - John Dowdy
Shown with Co- Pilot, 1st Lt. Gilbert Pohl, standing middle.
Info Contributor - Roy Potter
Flown by my Great Uncle, 1st. Lt. Eldon Neil Colby, on his first mission as a Pilot, after being the Co-Pilot on his original aircraft The OKLAHOMAN (42-40738). He was flying alongside this bird in TOUCH OF TEXAS! (5 Dec 43) when The OKLAHOMAN was hit by a direct burst of flak, carrying the Mason Crew, who normally flew in FIGHTIN' SAM (42-40506). The aircraft was blown apart, with Mason being the sole survivor (POW).
Send e-mail or pics to B-24 Best Web Master along with your questions or comments about this web site.
Copyright © 1997 B-24 Best Web. Published on Veterans Day 11/11/97. Last modified: 31-Aug-2021