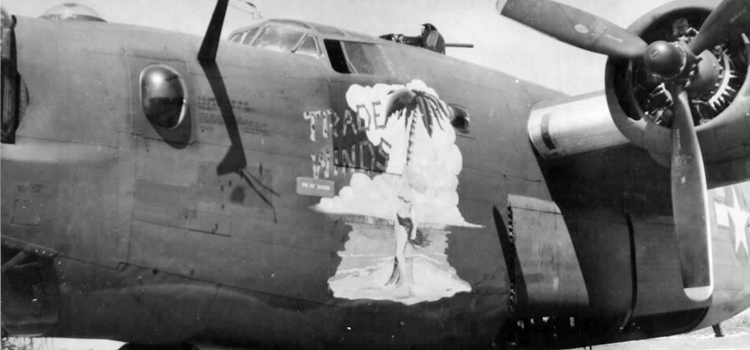 NAME
TP
-
M#
SER
-
BLK
-
MF

SERIAL #

AF

BG

BS

SC
RCL/#
V#-P

PHOTO CREDITS

TRADE WINDS

B

-

24

H

-

15

-

DT
41-28837

8

487

837
4F
Q
00-

2

HENRY ONG
Contributor - Ivo de Jong
The picture was taken after TRADE WINDS and her crew had completed 25 combat missions, shortly before the transition to B-17s. This was an ill-fated change for the crew, as they were shot down 6 Aug in B-17G 43-37805 while flying their 30th and last required combat mission. Lt Edward Reichel died two days later in a Berlin hospital; the others all became prisoners of war.
Standing (L-R)
Jay J. Hatfield - Pilot
John D. Taber - Nose Gunner
Edward Reichel - Bombardier
Charles D. Jamison - Waist Gunner
Clarence H. McGinn - Co-Pilot

Kneeling (L-R)
EJoseph Kazmouz - Tail Gunner
Henry Ong - Radio Operator
Cecil O. Glover - Ball Turret Gunner
Richard F. Conway - Engineer


Info Contributor - Ed Clendenin
Transferred on 24 Feb 45 to MTO 376th BG / 513th BS (#40). First mission flown with 376th BG was on 28 Feb 45.
Send e-mail or pics to B-24 Best Web Master along with your questions or comments about this web site.
Copyright © 1997 B-24 Best Web. Published on Veterans Day 11/11/97. Last modified: 27-Mar-2021