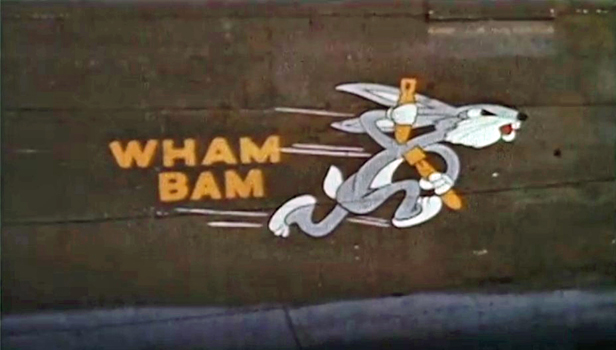 NAME
TP
-
M#
SER
-
BLK
-
MF

SERIAL #

AF

BG

BS

SC
RCL/#
V#-P

PHOTO CREDITS

WHAM BAM

B

-

24

D

-

1

-

CO

41-23738

8

93

330

AG

F

00-

3

N/A
Starboard (Right) Side - Color Image - Warner Bros. character "Bugs Bunny"
Info Contributor - Tom Brittan
Original aircraft in 93rd BG / 330th BS (F). Early in 1944 it was transferred to 453rd BG to become that Group's assembly ship. It was war weary when salvaged on 11 May 45 as it was uneconomical to repair. As its salvage is recorded on the 3 SAD Field Engineering Salvage List for 445th BG, it is possible that WHAM BAM was transferred to 445th BG after 453rd's last mission on 11 Apr 44. 453rd BG was withdrawn from combat about two weeks before 2nd AD Groups flew their final combat mission, the intention being to re-deploy the Group to the PTO.
Info Contributor - Carol Bruzzese
My Father, Dante Morroni, flew 32 missions from 27 Apr - 25 Jul 44. He said that this bird became the "weather plane" at Old Buck (Buckenham) near Attleborough, England (Station #144).
Send e-mail or pics to B-24 Best Web Master along with your questions or comments about this web site.
Copyright © 1997 B-24 Best Web. Published on Veterans Day 11/11/97. Last modified: 27-Mar-2021