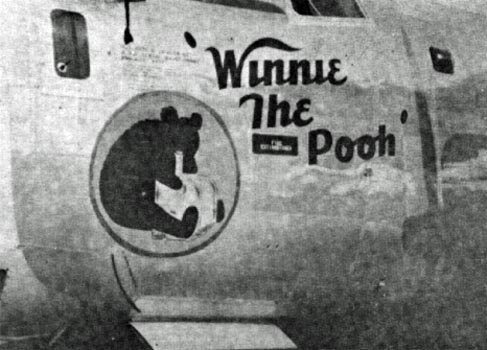 NAME
TP
-
M#
SER
-
BLK
-
MF

SERIAL #

AF

BG

BS

SC
RCL/#
V#-P

PHOTO CREDITS

WINNIE THE POOH

B

-

24

H

-

15

-

DT

41-28880

8

34
391
~
E
00-

1

N/A
Port (Left) Side
Info Contributor - Tom Brittan
One of the first ten NMF B-24H DTs with the level anti-glare panel stretching above the pitot tube masts all the way to the nose turret.
8 34 391 RCL: E (traced 24 - 31 May 44) At this stage it had the full name WINNIE THE POOH and a baby bear artwork on the nose. At some time during its subsequent assignment to 486th BG, the artwork and part (or all?) of the name were removed and shark jaws added
8 486 833 4N S (traced 6 - 20 Jun 44) G-H equipment was then installed and the aircraft became a lead "PFF" ship (but did not have H2X radar)
8 486 834 2S R (traced 5 - 19 Jul 44, including 14 Jul 44 when it led 487th BG) The plane was also known in 486th BG as The GHOST SHIP but I don't think this name was ever displayed on the nose.
8 34 18 RCL: S (traced 29 Jul - 24 Aug 44)
8 406 NLS J6 Y (RZI 8 Jul 45) The name UMBRIAGO, too, has been associated with it and I think this was after it had been painted gloss black and assigned to 406th NLS.
Send e-mail or pics to B-24 Best Web Master along with your questions or comments about this web site.
Copyright © 1997 B-24 Best Web. Published on Veterans Day 11/11/97. Last modified: 27-Mar-2021