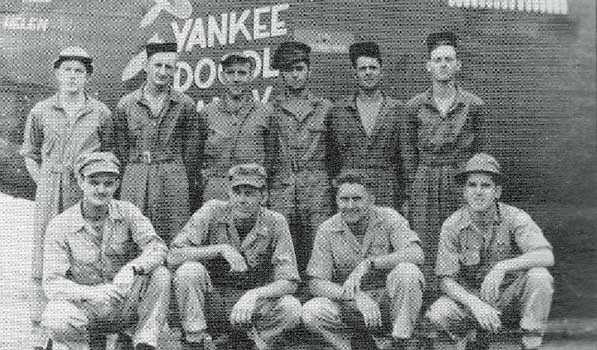 NAME
TP
-
M#
SER
-
BLK
-
MF

SERIAL #

AF

BG

BS

SC
RCL/#
V#-P

PHOTO CREDITS

YANKEE DOODLE DANDY

B

-

24

D1

-

30

-

CO

42-40077

5

90

319

~

~
01-

4

EDWARD E. KUBITZ
Lost 12 Apr 44 Hollandia, Dutch New Guinea - MACR 4926 Pg1 / Pg2 - Pilot Howard L. Golden
Contributor - Greg Janusz
Shown with my Father, Thomas A. Janusz (Pilot), kneeling far left.
Info Contributor - Rick Van Bogart
My Uncle, Le Roy Van Bogart, was the Line Chief.
Info Contributor - Robert Tupa
An extract from the S-2 form blue, 400th bomb squadron dated 12 Apr 44 states: "Plane from 319th Bomb Squadron became separated from 319th flight prior to reaching Ramu Valley and attached itself to our squadron. South of Sentani Lake as our ships were engaged in changing lead plane this plane dropped behind the formation, reason not known. At time of attack by enemy fighters this plane was 2,000 yards behind formation. The Tony's and Hamp continued their dive through our formation and pressed their attack determinedly on the straggling plane. Many strikes were seen registering on it and knocking out at least two engines and probably scoring hits on the cockpit, with 20mm shells. The plane was seen to smoke and went into a flat spiral, crashing with a terrific explosion, approximately 6,000 feet SW of Hollandia strip in Kunai grass, north of Sentani Lake. Two parachutes were seen to open, but the fighters strafed these before they reached the ground and no survivors could be expected."
Send e-mail or pics to B-24 Best Web Master along with your questions or comments about this web site.
Copyright © 1997 B-24 Best Web. Published on Veterans Day 11/11/97. Last modified: 27-Mar-2021