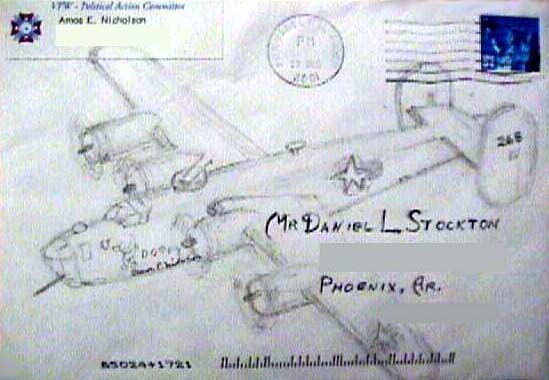 Walt Disney Character - DOPEY (V2) - "Snow White Theme"
Contributor - Amos Nicholson (Artist/Crew Chief) / via Charles Brummel (Nephew)
Along with ARKANSAS TRAVELER, I painted two versions of SNOW WHITE AND THE SEVEN DWARFS, PRINCE CHARMING, and all "Seven Dwarfs" (three versions of DOPEY) on B24-Ds in the Libyan desert in Africa 1942-43. I never signed them and never got credit.
Info Contributor - Daniel L. Stockton
Although I am not much into Christmas cards (though I do appreciate the sentiment), I was "Over Whelmed!!" when I received this from Amos (himself!), in 2001. Thanks, Amos, and here's to many more "Snow White" Holidays!
Send e-mail or pics to B-24 Best Web Master along with your questions or comments about this web site.
Copyright © 1997 B-24 Best Web. Published on Veterans Day 11/11/97. Last modified: March 25, 2008